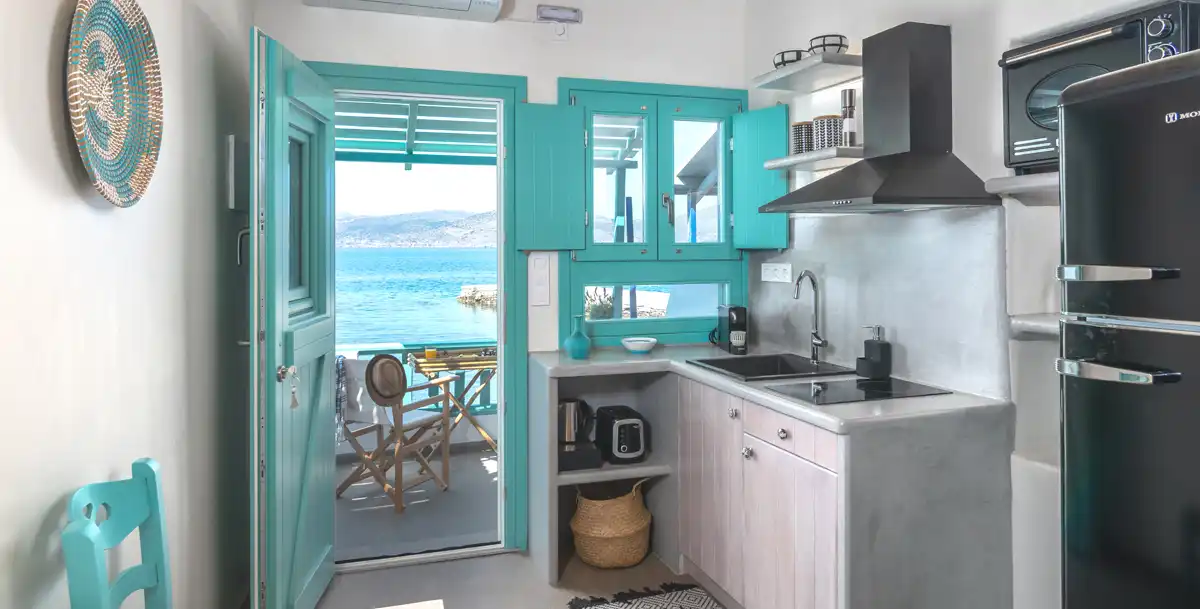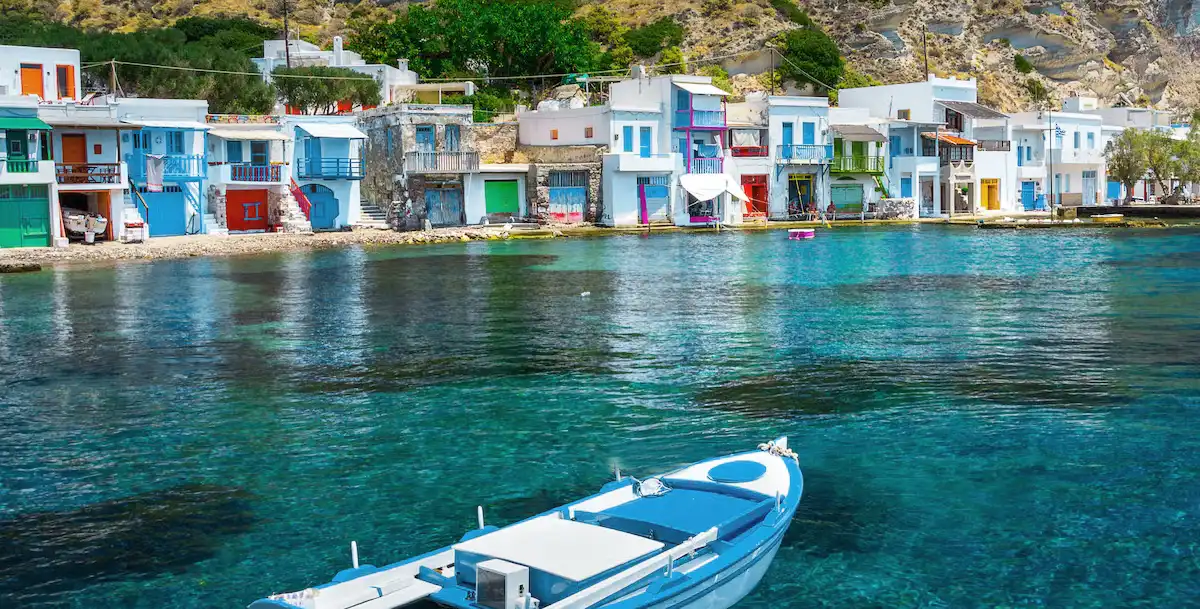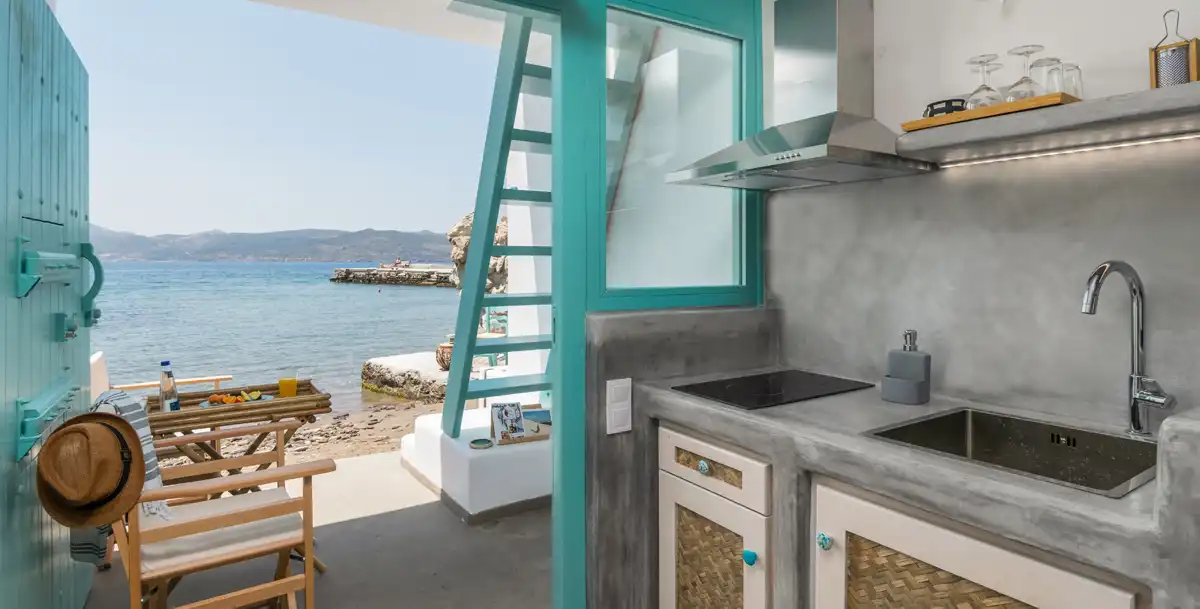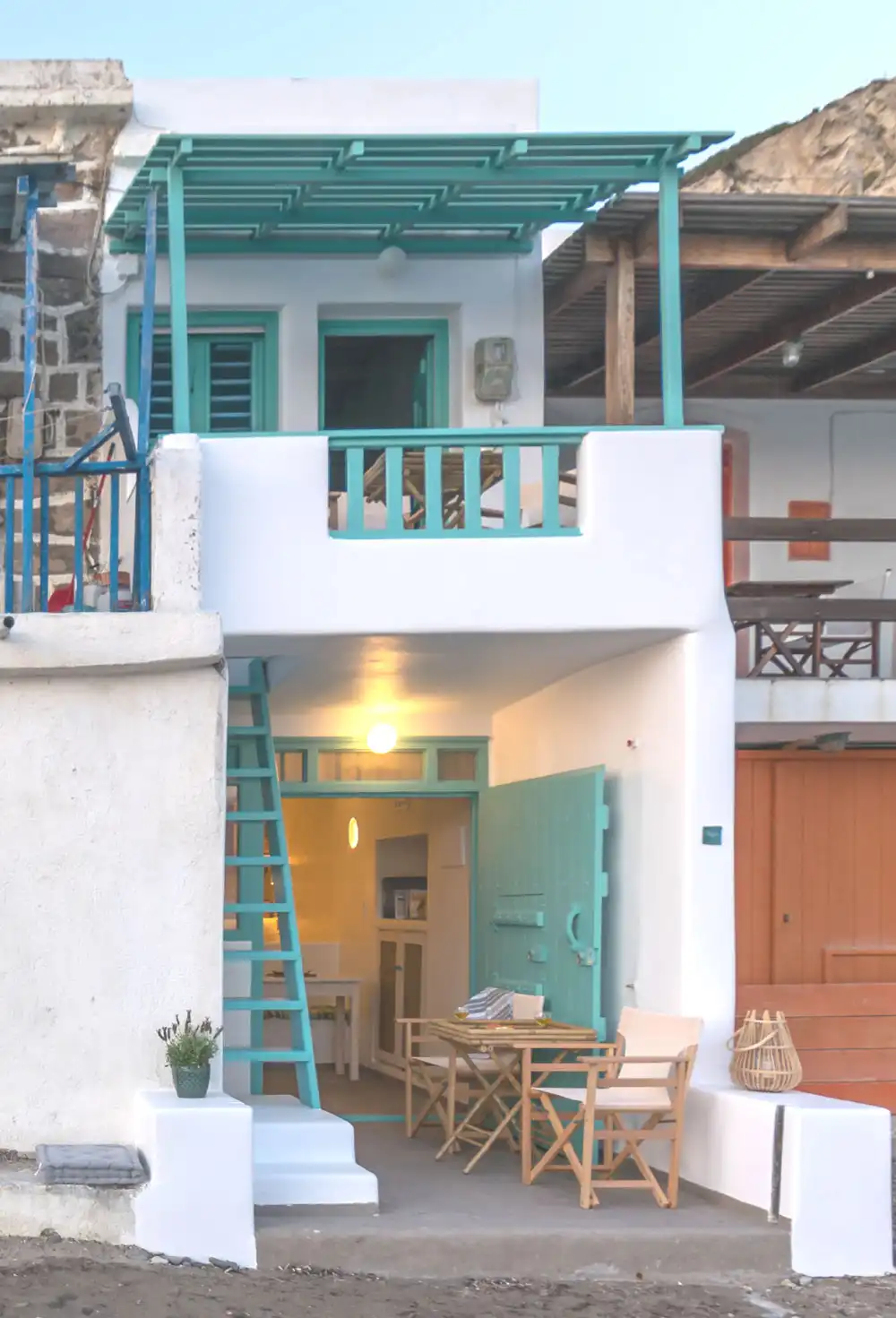 Fisherman's Syrma House Klima Village

Klima boathouse turquoise is located in Klima village approximately 2,8 kilometres from the port of Adamas making it one of the most visitable and romantic destinations of Milos with its trademark the multi coloured fishing houses.
The newly created turquoise boathouse apartments combine both traditional and futuristic elements giving you the chance to enjoy a romantic and at the same time a naturalistic experience of the sea, sun and sand at your doorstep.
Private parking is provided, outside the property at about 100 meters distance. Equipped with all the necessary facilities, such as WiFi, kitchen, air conditioning,  ceiling fan, pool towels, amenities and a balcony with a breathtaking view of the ocean.
Klima fisherman house
a magic location in Milos island

Klima boathouse Turquoise accommodations are situated at about 2.8 km from the port of Adamas. You can access it by car, taxi and bus.
The boathouses in Klima provide a magical experience , since Klima is one of the most romantic places of our island. Also, the option of laying in the sandy beach or swimming-snorkelling in the crystal clear water will be available anytime.
Milos is famous for its beaches of unparalleled natural beauty, but what steals the visitor's heart are the unique seaside settlements with the characteristic feature of the colourful little houses, the so-called "Syrmata", which once served as a place of safekeeping for the fishermen's boats during the winter months.
In Klima of Milos are both traditional boat houses TURQUOISE, fully renovated in 2021, decorated with passion from natural materials, with excellent views and romantic atmosphere, provide all the modern comforts that will make your holidays unforgettable.
Fisherman's Boathouse
Looking at the endless blue

Klima boathouse Turquoise is separated in two floors (Turquoise I and Turquoise II) with an amazing sea view.
A quiet place for your vacation without cars, with brand new rooms were you can enjoy the sounds of the sea waves.
Our hospitality will make your vacations unforgettable.
Boat house in Klima
Magical holidays in Milos Island

Klima boathouse Studios. These boathouses were used by the fishermen, to keep their boats safe on winter time and on the windy days. Today, we have turned these boat houses into a beautiful traditional studios with Cycladic inspiration, where guests can spend their vacation by the sea side.
Book a traditional Boathouse
An exceptional experience at
the island of Venus

Syrma accommodation milos. Book a sirma, rent a boathouse in Klima village in Milos Island. We have traditional studios by the sea at the best price. Captain's Boathouse Klima Beach and Sunset Klima Boat house. Traditional seaside accommodation.